Australia's Leading Container Liners Suppliers
If you are shipping hides, corrosives or contaminated materials, Plascorp has four container liners, which can help to eliminate environmental and equipment damage.
As a member of the Australian Hide, Skin & Leather Exporters Association, our Plascorp container liner range includes:
Plascorp TUFF – our strongest & most popular liner
Plascorp MAX
Plascorp DURA
Plascorp ECONO
All container liners are suitable for shipping any palletized or pre-packaged cargo. Proving Australia with top quality container liners has helped to position Plascorp as one of the country's best container liners suppliers.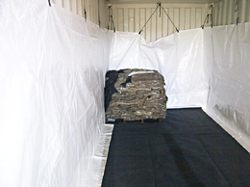 Why use a Plascorp Container Liner?
Plascorp Container Liners quickly convert standard ISO containers into self-contained customisable transport systems for all types of business products and corrosive materials. Most shipping cargo requires a lined container to prevent contamination or environmental concerns. That's what Plascorp offers a range of container liners suitable for any pre-packaged or palletised cargo.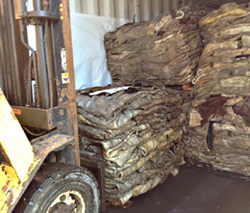 The benefits of using a Plascorp Container Liner
Welded Exposed Seams
Preventing any fluids used in the curing process from leaking out of the container. These fluids could potentially damage shipping containers or release toxic chemicals that could damage the environment.
Easy One Person, Five Minute Installation
Other shipping container liners can be difficult to set up. With Plascorp's quick-tie system, you will see a reduction in labour costs while at the same time increasing operational efficiency.
Customisation
Plascorp specialises in the design and manufacture of container liners and have the ability to customise a liner to best suit your product, loading and discharge requirements.Talk to us further about our customisable container liner options.
Competitive Pricing
Plascorp offers economical pricing and order quantity price breaks to our customers.
Global Distribution
Plascorp's high quality container liners and other products are available for worldwide distribution and delivery.
Plascorp TUFF Liner
Don't settle for second best. Our strongest and most popular Plascorp Container Liner, features a double floor to prevent leaks, with a top felt layer to minimise slippage.
Other cutting-edge features include:
Construction from reinforced polyethylene fabric (380gsm/625µm + 200gsm/300µm)
Body seams which are welded to prevent leaks
Compact packaging for reduced freight and storage costs.
No sawdust required
Plascorp – Industry Leaders in Container Liners
For over 50 years, Plascorp has been providing business across Australia and the world with a range of products to accommodate the ever-evolving products manufactured for the mining, plumbing, irrigation, drilling, construction and petrochemical industries. All our high-quality products are certified to Australian Standards.
For more information on our products including container liners, PVC pipes or drilling screens, get in touch with our friendly team of experts today. Send us an email at or give our head office a call at 1300 30 13 13. Whether you are new to the industry or have years of experience, Plascorp is happy to work with you to develop the best methods for your business.