PVC PIPES FOR Plumbing 
PVC and PVC-U pipes are used extensively throughout the Plumbing Industry for stormwater and drainage, waste and venting. We can supply pipes and accessories for civil, infrastructure, commercial and residential plumbing projects.
STORMWATER PIPES
PVC pipes have a proven performance for stormwater applications as they are cost effective, available in long lengths and easy to handle and install. Plascorp stormwater pipes are available in sizes ranging from 75 mm to 300 mm and are manufactured in accordance with AS/NZS 1254.
DRAIN WASTE + VENT PIPES
Plascorp DWV (Drain Waste & Vent) PVC pipe range is impervious to bacterial and fungal attack and not subject to electrolytic corrosion. They are approved for multi-storey plumbing in conjunction with approved fire stop collars. And are available from 40 mm to 225 mm in diameter and manufactured according to AS/NZS 1260.
PLASCORP
As well as providing standard industry lengths, Plascorp can supply long lengths to 6m and short length products such as 1m sections.
Products are manufactured according to the relevant Australian Product standards with Plascorp holding a number of licences.
We recommend that our products are installed in accordance to the relevant Australian Standards and Industry Codes of Practice.

BEP-PVC
All Plascorp PVC pipe products are certified to "Best Environmental Practice – PVC", BEP-PVC.
BEP CERTIFICATE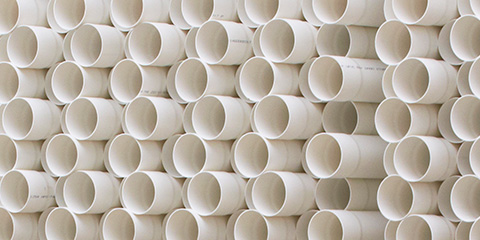 PLUMBING RANGE
PVC-U Stormwater Solid Wall
PVC-U DWV Solid Wall
Drill Clamps & Elevators
VISIT PRODUCTS